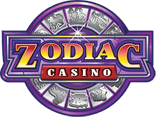 Play Blackjack Online at Zodiac Casino Mobile! for just $1
We offer plenty of different and exciting versions of online blackjack at Zodiac Casino Mobile. From Classic Blackjack to Vegas Strip Blackjack, you're set to find a version you'll love in no time.
The most important thing to remember about online blackjack is that it is a game of skill. You can always practice and improve, and the great thing is you can have so much fun while doing it!
Here are a few terms to help you start playing online blackjack at Zodiac Casino Mobile today.
Hit - Another card will be dealt to you by the dealer and be counted in the total value of your hand.

Stand - You will not take any more cards and your current hand will determine if you beat the dealer or lose.

Split - If the first two cards in your hand happen to have the same value then you can split them, thus creating two hands. The hands are treated as separate "new" hands. There are, however, some restrictions and these vary depending on the version you are playing.

Surrender - Depending on the version you are playing, sometimes you have the option to surrender your hand. The house, will in turn, keep 50% of your bet and return the rest to you.

Insurance - Some versions of online blackjack will offer you insurance when the dealer's upcard is an ace. If you choose to take insurance, you will be offered the opportunity to place an additional bet that that dealer has blackjack. This bet is separate from the original hand and normally pays 2:1.
Try your luck on one of the fantastic versions of online blackjack available at Zodiac Casino Mobile and start winning!