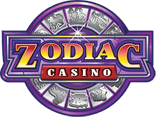 Blackjack
Playing blackjack online is fun, fast paced and the objective is easy to understand - if the dealer has a higher hand than you or the sum of your cards is over 21, you lose.
There are plenty of ways for a blackjack player to increase their chances of winning at a mobile casino. Whether you're a novice, intermediate or advanced player, read the tips below to increase your chances of winning at Zodiac Casino Mobile - the best mobile casino!
Playing purely on chance is a mistake, blackjack is a game of skill - work on improving your skills.
The aim of the game is to beat the dealer. This means you don't always have to get as close as possible to 21.
You can bring the edge down, but you can't consistently win on blackjack. If you can accept that losses are part of blackjack, it will help make you a better player, and make your experience more enjoyable.
Using a simple strategy can help you to bring the house edge down to less than 1%.
Insurance is only useful if you think the dealer has blackjack.
You won't always win on blackjack - know when to stop, and save your funds for another session.