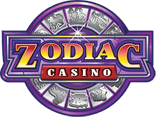 Play Online Roulette at Zodiac Casino Mobile!
Roulette
There really is nothing more exciting then placing your bet and watching the croupier spin the roulette wheel - all eyes focused on where the little white ball will land! Roulette is a sensational and fast paced table game, and if you take the time to learn a bit about it, it could make you a big winner! So go on, get playing and start winning!
Originating in France, Roulette is one of the oldest casino games in existence and continues to this day to be incredibly popular. Read some of our tips below to learn about what you can do to have even more fun playing online roulette at Zodiac Casino Mobile. Just remember that you too can become a winner at Zodiac Casino Mobile, by playing smart and having fun!
Start having fun playing the best online roulette!
Tips & Tricks
With so many different versions of roulette available, we'd recommend trying them all out until you find your favourite.
There are many different bet types available in online roulette and they fall within one of two categories - inside or outside.
Outside bets typically have smaller payouts but better odds at winning.
Just remember that not all roulette games are created equal - European Roulette features a single 0 wheel, whereas American Roulette features 0 + 00.
There's a wide variety of betting options, so think about your strategy and the bets you place.
Have fun playing online roulette here with us at Zodiac Casino Mobile. Don't forget to take advantage of our incredible signup bonus to help kick start your winning streak!