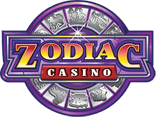 Roulette
Roulette has been around for centuries and is played at casinos all over the world. There are no hard and fast tactics that will make you a fortune, but these tips can help you to better understand the game.
Roulette tips
Don't follow a system.
Look hard for a single zero roulette wheel.
Don't bet the five number bet - it has the worst odds on the table.
Keep an eye out for the surrender rule, which can help to cut the house edge almost as much as a single zero roulette wheel.
Don't look for a biased roulette wheel.
There are many different betting options on Roulette. The core of a roulette wheel contains the numbers 1 thru 36, plus 0 and 00. The edges of the table have places for outside bets - an outside bet can be placed on a group of numbers or some binding characteristic. All outside bets lose if the ball drops on 0 or 00.
Become a WINNER by playing at Zodiac Casino Mobile. Sign up, play mobile roulette and enjoy our mobile sign up bonus - think of it as a nice little kick-start on your new enlightened road to riches.