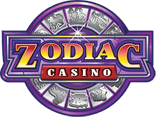 Slots
Play from a huge range of mobile slot games at Zodiac Casino Mobile and win real money!
Slot tips
Hold onto your winnings! If you land a win, don't put it all back in.
Save something for tomorrow! Save something so you can play another day.
Minimise your losses and maximise your gains! Decide prior to playing how much money you want to play with.
Manage your time! Decide how long you want to play online slots for.
If you don't win anything on a certain slot, don't keep pouring money into it.
There is no guarantee that if you play all day on the one machine you will win.
With low starting bets of only 1 cent available on the majority of mobile slots at Zodiac Casino Mobile, anyone can have a spin and win!
Place a bet, click the Spin button and watch the reels line up. Games differ slightly in gameplay, but the basic concept remains the same; line up the symbols on the paylines to form winning combinations. Each game has its own pay table and special symbols, which you can see by clicking the View Payout button.